Augusta, GA dumpster rental company Dumpster Depot has expanded dumpster rental operations to the city and the Central Savannah River Area (CSRA). The company provides 10- to 40-cubic yard containers and Porta Potty rentals for moving and construction projects.
Augusta, GA dumpster rental company Dumpster Depot announced the expansion of its rental construction waste removal services and Porta Potty rentals to the city. The expansion makes the company one of the leading independent commercial dumpster companies in Aiken County and the Central Savannah River Area (CSRA).
More information about Dumpster Depot is available at https://dumpsterdepotllc.com
The Aiken, SC construction waste removal company announced its expansion to Augusta, GA as part of a strategic growth plan. The move comes amid growing demand for bulk residential and commercial construction waste removal in the region.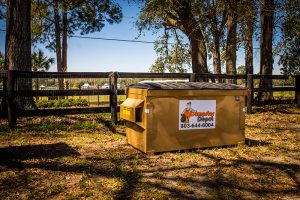 Dumpster Depot offers a wide range of dumpster containers in standard industry sizes. Dumpster sizes range from 10-cubic yard containers for small residential or basement cleanups to 30- and 40-cubic yard containers for small to large home constructions. The company also offers smaller front-load containers in 2- to 8-cubic yard volumes.
Construction waste removal professionals in Augusta, GA help clients choose the volume and type of dumpster unit required for their project and customize waste removal services to their specific needs.
Dumpster Depot also offers Porta Potty rentals on standard and handicap-accessible units. The company can deploy portable non-flushing toilets with anti-slip floors to construction sites with sink units and hand sanitizer dispensers.
The company offers a dumpster rental guide titled "Dumpster Downlow" at https://dumpsterdepotllc.com/downlow
As an environmentally responsible waste removal company, Dumpster Depot aims to attain a zero waste benchmark. Towards this effort, all waste removal dumpsters in Augusta, GA are hauled by hybrid-fueled trucks. The company recycles more than 2 million pounds of waste each year and is the only local construction waste removal contractor in Augusta to successfully divert more than 50 percent of all waste from landfills.
According to a spokesperson for the Aiken, SC waste removal company, "We are excited to announce our strategic expansion to Augusta, GA and look forward to supporting the waste removal needs of homeowners and the construction industry across the CSRA."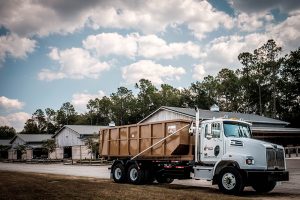 Dumpster Depot is a full-service residential and commercial waste removal company headquartered in Aiken, SC. Founded in 2003 by Norman Dunagan, the company has grown to be a full recycler with more than 150 roll-off containers, 100 front load containers, and 12 trucks. In 2015, the company began handling recycling for the City of Aiken.
For more information about renting dumpsters for construction waste in Augusta, GA, call 803-644-6004 or visit the URLs above.